Used clothes are austerity fashion in Eastern Europe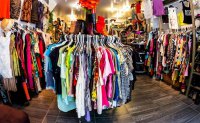 Budapest/Warsaw - hit Central and Eastern Europe strongly from the global financial crisis but one trade rebounded are second-hand clothes.
While financial pressures have prompted many consumers in western Europe to turn to retailers offering discounts like Primark, their peers to the east - where wages are much lower - have turned to second-hand clothes.
Retail stores of second-hand clothes in Hungary, Poland, Bulgaria and Croatia have grown rapidly and in light of the slow pace of convergence of income of individuals in western and eastern Europe, these stores have invested millions of euros to expand their business.
Such companies and their opponents obtain their goods from Western countries, where they buy them from companies that pay people money in exchange for getting their old or unwanted clothes for recycling (C4C). Sometimes some of these clothes are in their original condition and the price tag is still attached to them.
In Hungary, the most heavily indebted country in Central Europe, where the economy is still struggling to return to its pre-crisis levels despite its significant growth this year, the import of used clothes has more than doubled compared to 2008 figures and reached 56 million euros last year.
In Poland, the region's largest economy, more than 40 percent of people buy second-hand clothes regularly, and second-hand clothes worth 100 million euros were imported last year, in excess of the average import in previous years of nearly 60 million euros. Most of these clothes come from Britain and Scandinavia.
The conflict between Russia and Ukraine affects the economies of the region to varying degrees, but it revived the sale of used clothes in Bulgaria.
---
Reviews